How I Use the Daily Note Feature of Obsidian Like a Bullet Journal and Knowledge Capture
If you're not familiar with the bullet journal, it's, in essence, a way of combining multiple notebooks into one. A somewhat freeform planner that's created and customized by the individual.
As someone with ADHD, I find the concept both helpful and overwhelming. It's a blank notebook, requires work each week/month to set up, and the potential for artistic expression leaves simple layouts feeling a bit boring to me. At the same time, I don't want to waste significant time making something complicated.
While we can't wholly replicate this in the digital world with Obsidian, we can get close to the concept with daily notes.
Automation saves the day
Quite possibly, the best part of daily notes is they can be created using the command menu in Obsidian and scaffolded out from a template you can customize to suit your needs.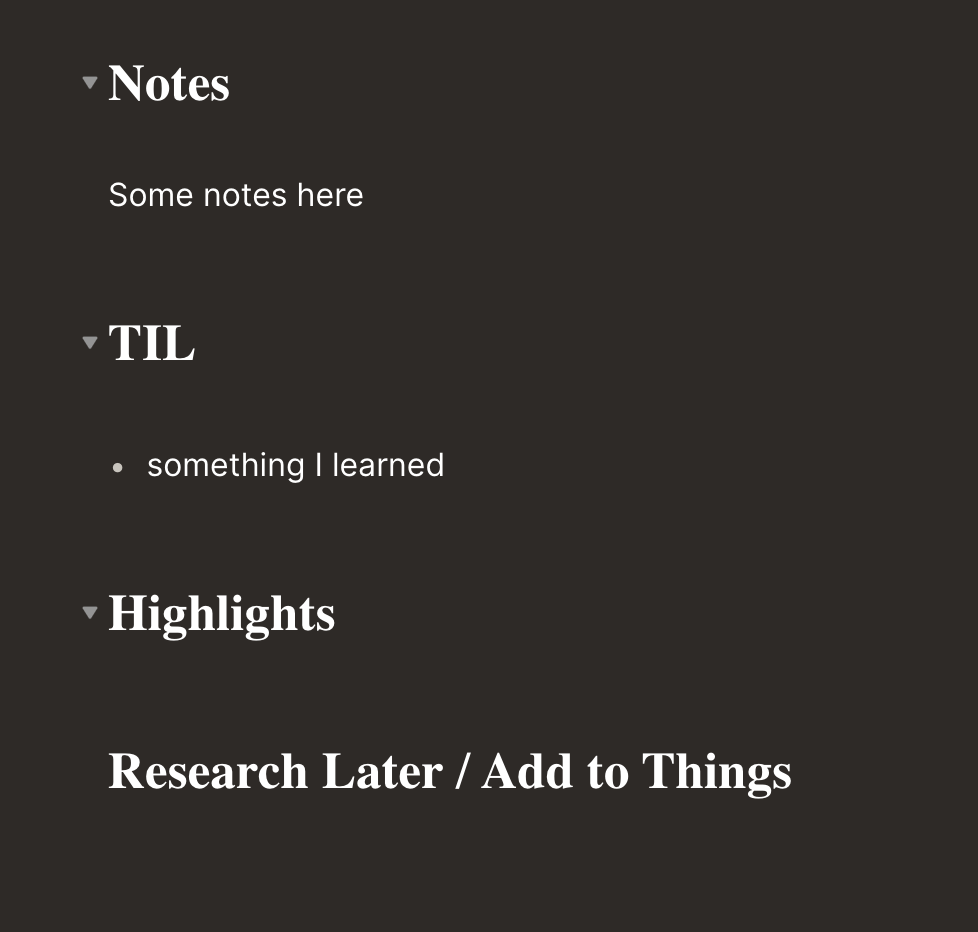 👆 My daily notes template.
A keyboard shortcut, and I've got a head start. Let's go through the sections.
Notes
This is where I keep my notes about the tasks I'm working on, research I've completed, meetings, etc. Fairly self-explanatory, but this is primarily a free-form section.
Today I Learned (TIL)
I use this section to jot down quick notes about new things I learn that I may or may not turn into a whole note in Obsidian. Backlinks make this a lighter lift allowing me to connect the ideas to a specific day.
Highlights
Anything of note that is a high point of the day. It could be a compliment, solving a bug, etc. Not all, but most items noted here end up in my Brag Doc.
Research Later / Add to Things
These are the items that come up during the day, possibly things I've learned or thought of that need time I can't devote to that day. This helps keep me on track with the things I need to get done; sometimes, that's no small feat. Sometimes I need to add these to a specific day, and those items will get added to Things, my digital to-do list, with a deadline added to the calendar.
Hopefully, this gives you an idea of how you could structure your daily notes in Obsidian.